Choosing A Builder
Building a pool is a significant investment, which means choosing the best builder can be a little intimidating. With a little research you can confidently choose the best pool builder out there.
At Nautilus Pools, we want all our customers to feel confident in their decision. We recognize the amount of trust you place in us when you sign a construction agreement to build.
With that in mind, here are some factors we suggest considering before making your decision: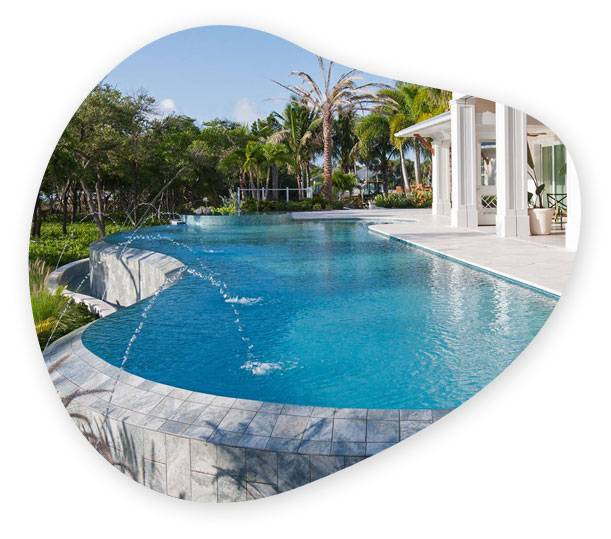 1. How long has the company been in business?
The age of a company tells you several things - how much experience they have, how financially stable they are, and how successful they have been over an extended period. Our office and showroom are staffed with prompt friendly and knowledgeable personnel Monday through Friday from 7:30a.m. to 4p.m. and Saturdays by appointment. Our location has remained the same since 1994. We have proven to be strong even through tough economic times and we look forward to the future.
2. Will the pool be custom built or pre-designed?
Given the financial investment, many people like to be involved in designing their pool's details. Some companies struggle to think outside of the box when it comes to design and only have a set of standard styles to choose from. At Nautilus Pools you will meet with our designers not a "salesperson". Using cutting edge CAD technology Nautilus Pools can design the best pool for a space including spas, decking, water features, tile placement and landscape ideas. We have a full line of samples and products on display to fully customize the plan.
3. Is the staff responsive and courteous?
A backyard pool is a long-term commitment. Whether it's about maintenance or finance, there is a good chance you will have a relationship with your pool builder beyond the simple building of the pool. Dealing with a staff that is responsive and courteous is essential for any customer-company relationship, but especially when it comes to pool building. We take pride in our work and strive to produce a high-quality product. Every phase of your project is directly handled by our in-house construction team, supervisors and office staff. This is to ensure that your pool will be built for the long-term enjoyment. Simple to complex projects are no stretch for our long-term employees who are the best at what they do. To help maintain our high-quality control standard we have a full-time repair technician on staff to handle service needs. Chemical balancing, pool cleaning, and monitoring if desired can be taken care of by our pool service technicians.
4. What do their former customers have to say?
One of the best indicators of a top pool builder is how they are perceived by former customers. As we said, pool building is a pretty involved process. By the end of it, customers have a very good understanding of the company's ability and professionalism. With completion of over 3,000 projects with no complaints on our license pride is taken to successfully help our clients achieve their outdoor living dream.
5. Do their pools deliver a quality return on investment?
A pool isn't something you are only going to use for a short period of time, but rather for decades to come. Cutting corners ends up costing more than doing it right the first time. Quality should be among your top priorities. At Nautilus Pools we specialize in shotcrete shells with a minimum of 4,000 psi. This means your pool shell is extremely dense and durable. We offer over 375 waterline tiles that are all standard selections. The paver manufacturers we use produce high quality pavers that meet and exceed the American Society for Testing and Materials (ASTM).